News
AIC Receives CurTec's Global Distributor of the Year Award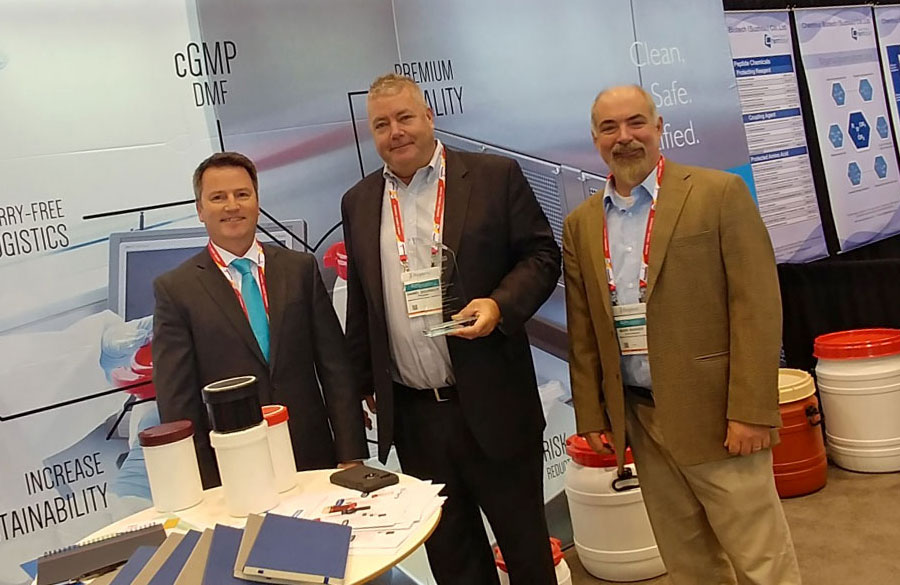 May, 2019, Chicago, IL : During the 2019 CPhI North America event, Olaf Hopman, CurTec Sales Director North America, presented Dan Bourneuf, President of American International Container (AIC ) with CurTec's Global Distributor of the Year Award for 2018.
AIC had an extremely strong year with the highest gross sales of CurTec products in the world. This great effort vaulted them into becoming CurTec's top distributor for the first time in their history. When Hopman presented the award he commented "For a company founded in 2009, AIC's achievement is truly remarkable". Hopman presented the award to Dan and Mark Warner, AIC's National Sales Manager who are located in Boonton, NJ near the epicenter of USA pharmaceutical production.
During the presentation, Hopman said: "Since their inception, CurTec had confidence that AIC would one day be in this position. Dan and his team have a deep understanding of the pharmaceutical and specialty chemical markets' need for industrial packaging and process equipment. By providing an integrated solution for the bulk packaging of high value powders and tablets, they consistently create exceptionally high value for their customers which is reflected in their strong sales growth over the past nine years."
AIC and the CurTec team look forward to continuing the collaboration in growing CurTec's reach in the US market and serving the pharmaceutical industry.
About CurTec
CurTec designs, manufactures and distributes plastic high performance packaging. Across the world, CurTec helps leading pharmaceutical, specialty chemicals and food ingredients companies, to whom hygiene, safety and security are imperative, to protect, identify and market their valuable products. Their drums, pail containers and jars allow users to increase the value of their products, reduce operational costs and make their supply chains more sustainable.
---

In 2023, AIC will be exhibiting at the following trade shows:
 AUGUST
Formnext
Palmer Event Center
Austin, TX
August 28-30, 2023
Booth #429
https://www.formnextforum.com/
---
 SEPTEMBER
Pack Expo Las Vegas
Las Vegas Convention Center
Las Vegas
September 11-13, 2023
Booth #SL-6553
https://www.packexpolasvegas.com/
---
 SEPTEMBER
Contract Pharma
Hyatt Regency
New Brunswick, NJ
September 21-22, 2023