Stainless Steel Drums
Tight-Head Stainless Steel Drums
As a leading manufacturer of stainless steel containers, stainless steel drums and handling equipment, Müller GmbH is synonymous with quality. AIC has a full inventory of containers in a variety of sizes.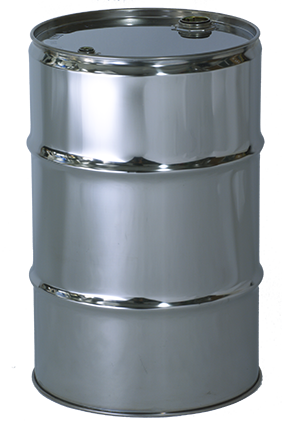 Investing in quality tight head or open head stainless steel drums for food, pharmaceuticals or chemicals does not have to come with a high price tag. Müller economical 304 stainless drums meet UN approvals X for solids and liquids up to 45 psi / 1000 KpA. Available in sizes from 0.5 to 250 liters, Müller 304 stainless drums also offer an extensive list of options.
Stainless steel drums unique properties can outperform carbon steel drums for corrosion resistance, tensile strength and reusability.
Müller Economical Tight Head and Open Head Stainless Steel Drum Options
• Overlapped or butt welded
• Outside polished
• Laser welded 2" & .75" flanges in the top
• Galvanized or stainless steel closing rings
• Top / bottom seamed or seam welded
• Inkjet item number or other ID on the body
• Logo or product name on the drum
• Stainless or galvanized handles on smaller sizes
• All drums delivered prewashed
• In-stock sizes from 13.5 liter to 215 liter
• Certificates can be provided with the delivery

Click here to
download
Product Sheet PDF
Learn more about our Stainless Steel Drums